Trump Retweets Call To Arrest Georgia Gov. Brian Kemp & Secretary Of State Brad Raffensperger
On Tuesday, President Donald Trump retweeted a tweet from Georgia attorney Lin Wood that suggested Gov. Brian Kemp (R) and Secretary of State Brad Raffensperger (R) of Georgia should be imprisoned for not overturning the results of the presidential election from President-elect Joe Biden to Trump.
President Trump @realDonaldTrump is a genuinely good man. He does not really like to fire people. I bet he dislikes putting people in jail, especially "Republicans."

He gave @BrianKempGA & @GaSecofState every chance to get it right. They refused. They will soon be going to jail. pic.twitter.com/7PMBLc8L2N

— Lin Wood (@LLinWood) December 15, 2020

Subscribe!

A week of political news in your in-box.
We find the news you need to know, so you don't have to.
The tweet, which featured Kemp and Raffensperger in face masks that had the flag of China on them, was just one in a series of angry tweets shot off by the president on Tuesday, refuting claims of Biden's victory, despite the electoral college confirming his win Monday.
While Trump has been adamant about the election producing fraudulent results throughout the entire country, he has been specifically focused on Georgia, most likely because it was a surprise that he lost in the state, which Biden only won by 12,284 votes. Republicans have dominated in Georgians for nearly two decades, but top Republican officials in Georgia's government have confirmed Biden as winner after conducting a full hand recount and two audits since the November 3 election.
Wood, an attorney from Atlanta, has been extremely vocal in support of Trump's efforts to win back his "stolen" presidency. Wood has encouraged Trump supporters to stock up on survival supplies before Biden is elected, which included "2nd Amendment supplies."
50 Best Photos Of The Year 2020
Better to be safe than sorry.

Make sure you have PLENTY of water, food, flashlights & batteries, candles, radio, 2nd Amendment supplies, & a plan to meet with leaders of your communities.

Remember we only have 1 President at a time. Our leader is @realDonaldTrump, not Biden. pic.twitter.com/Z8cuPw1Md6

— Lin Wood (@LLinWood) December 14, 2020
Trump has not agreed with everything Wood has stated. Earlier this month, Wood told Georgians at a "Stop the Steal" rally that they should not participate in the Senate runoff election in January as a protest to force Kemp and Raffensperger to give Trump Georgia's electoral votes.
Trump told his supporters at a rally, "don't listen to my friends, just go out," and encouraged them to vote for the Republican candidates in the runoff election.
Read more about:
Leave a comment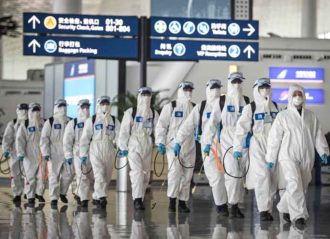 Click here for the 50 Best Photos Of The Year 2020 Slideshow
Listen to the uInterview Podcast!
Get the most-revealing celebrity conversations with the uInterview podcast!