Obama Endorses 81 Democrats In Upcoming Midterm Elections [FULL LIST]
Former President Barack Obama has released his first wave of endorsements for the upcoming midterm elections in a final push to wrest Congress from Republican control.
Today I'm proud to endorse such a wide and impressive array of Democratic candidates – leaders as diverse, patriotic, and big-hearted as the America they're running to represent: pic.twitter.com/gWzalQhFas

— Barack Obama (@BarackObama) August 1, 2018
Obama threw his weight behind a total of 81 candidates, primarily focusing on state-level elections in an effort to support the National Democratic Redistricting Committee. The organization, headed by Obama's former attorney general Eric Holder, currently aims to break Republican control of the redistricting process in more than 12 states. For this reason, nearly half of Obama's endorsements are in the running for state legislature, which has primary control of the redistricting process in most states.
Subscribe!
A week of political news in your in-box.
We find the news you need to know, so you don't have to.
Some have also noted that the former president seemed to play it safe with this round of endorsements. He only endorsed candidates who had already won their state's primaries – a potential sign that he doesn't want to get involved in intra-party competition.
But for some, "this list is more interesting for the omissions than for the people he put on it," said Republican National Committee Chairwoman Ronna Romney McDaniel on Fox News. The former president did not endorse any incumbents running for office, including Sen. Dianne Feinstein who is up for reelection in California. Obama also chose not to endorse many red-state Democrats, for fear that his seal of approval may only do more harm than good by alienating the candidate's conservative voters in a state where he is already facing an uphill battle.
In a follow-up tweet, Obama strongly encouraged Americans to get out and show their support.
I'm confident that, together, they'll strengthen this country we love by restoring opportunity, repairing our alliances and standing in the world, and upholding our fundamental commitment to justice, fairness, responsibility, and the rule of law. But first, they need our votes.

— Barack Obama (@BarackObama) August 1, 2018
Democrats need two Senate seats and 23 House seats to regain control over Congress. Meanwhile, Obama's endorsements included 22 House candidates, but only one Senate candidate, Rep. Jacky Rosen of Nevada.
Check out the full list of Obama's endorsements below: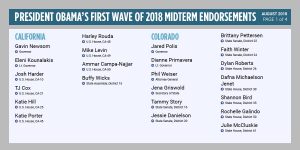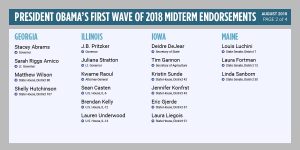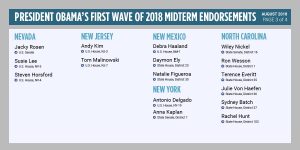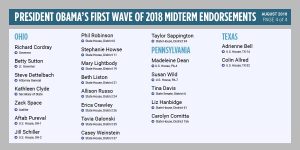 Read more about:
Leave a comment
Listen to the uInterview Podcast!
Get the most-revealing celebrity conversations with the uInterview podcast!