Donald Trump & Michael Avenatti In Twitter War Over Sketch Of Man Who Threatened Stormy Daniels
President Donald Trump and Stormy Daniels' lawyer Michael Avenatti have traded jabs on Twitter Wednesday morning following the release of a sketch depicting a man who the porn star claims threatened her in 2011.
Michael Avenatti And Trump Twitter War
Trump dismissed the sketch, released Tuesday, as "fake news" in a tweet Wednesday morning:
A sketch years later about a nonexistent man. A total con job, playing the Fake News Media for Fools (but they know it)! https://t.co/9Is7mHBFda

— Donald J. Trump (@realDonaldTrump) April 18, 2018

Subscribe!

A week of political news in your in-box.
We find the news you need to know, so you don't have to.
The president re-tweeted a user named "Deplorably Scottish" who joked that the man in the drawing looked like the porn star's ex-husband.
SLIDESHOW: DONALD TRUMP'S 30 CRAZIEST TWEETS
Daniels and her attorney Michael Avenatti, as well as Trump's personal lawyer Michael Cohen, appeared in a New York court this week. This comes after a weeks-long scandal that revealed Cohen paid the porn star $130,000 weeks before the 2016 election to force her silence on an affair she had with Trump in 2006. Trump claims he had no knowledge of this transaction or where the money came from.
Cohen's office, home and hotel room were raided by the FBI last week to seek documents related to that payment to Daniels, as well as records of communications between him and Trump and other affairs. Trump and Cohen's lawyer both condemned the searches, with the former decrying what he believes was a violation of attorney-client privilege.
Avenatti fired back at Trump with a series of mocking tweets Wednesday morning, in which he also revealed that the reward for more information on the man in the sketch has been increased:
In my experience, there is nothing better in litigation than having a completely unhinged, undisciplined opponent who is prone to shooting himself in the foot. Always leads to BIGLY problems…like new claims (i.e. defamation). LOL. #xmas #hanukkah #basta

— Michael Avenatti (@MichaelAvenatti) April 18, 2018
FBI search warrants uncovering EXISTING documents and recordings showing con job after con job pulled on REAL people and very REAL American citizens (who didn't know it). Welcome to the playing field. #whereyoubeen #basta

— Michael Avenatti (@MichaelAvenatti) April 18, 2018
Reward increased to $131,000. Effective immediately. #justice #basta

— Michael Avenatti (@MichaelAvenatti) April 18, 2018
For the record: I haven't worked on a political campaign in over 20 yrs. When I did work on campaigns, it was for Rs and Ds. And I haven't communicated with Rahm since Jan 2007. This isn't about politics – it's about the TRUTH. #nicetry #basta

— Michael Avenatti (@MichaelAvenatti) April 18, 2018
Daniels sued Cohen for defamation after he called her a liar, and alleges the non-disclosure agreement she and Trump reached about their affair is invalid because the former Apprentice star never signed it.
Trump is meeting with Japanese Prime Minister Shinzo Abe this week to discuss several issues, including trade and how to approach the subject of North Korea's nuclear weapons arsenal.
Read more about:
Leave a comment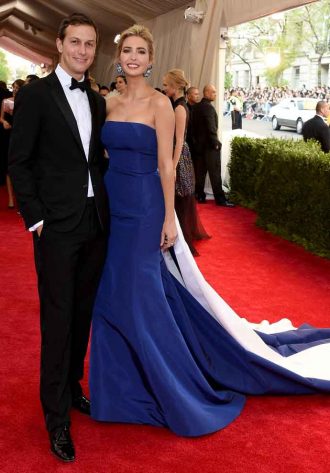 Click here for the 10 Most Powerful Political Couples Slideshow
Listen to the uInterview Podcast!
Get the most-revealing celebrity conversations with the uInterview podcast!