Climate Change Denier William Happer Named Head Of Climate Change Panel, Compares "Demonization" Of CO2 To Holocaust
President Donald Trump last week placed climate change denier William Happer in charge of a panel that assesses the threat of global warming, a move that drew little surprise from many of his opponents.
Even more concerning is a specific analogy Happer — the incoming head of the Presidential Committee on Climate Security — made regarding climate change. Happer, a former physics professor at Princeton University and a senior director for the National Security Council said in an interview that carbon emissions should be considered a positive occurrence rather than a threat to national security.
Happer's comments on climate change don't stop there, however. In 2014, he said in an interview on CNBC that the "demonization" of carbon dioxide was akin to the treatment of poor Jews during the Holocaust.
"The demonization of carbon dioxide is just like the demonization of the poor Jews under Hitler" Happer told the network at the time. "Carbon dioxide is actually a benefit to the world, and so were the Jews."
Subscribe!
A week of political news in your in-box.
We find the news you need to know, so you don't have to.
William Happer is set to lead a Trump panel on climate change: https://t.co/KNJKpO4A4t

Happer has previously argued that "the demonization of carbon dioxide is just like the demonization of the poor Jews under Hitler" pic.twitter.com/RzI4794alt

— John Whitehouse (@existentialfish) February 20, 2019
Several scientists and university science professors have voiced concern over 79-year-old Happer's views on global warming.
SLIDESHOW: TOP DEMOCRATS RUNNING FOR PRESIDENT IN 2020
Kim Cobb, professor in School of Earth and Atmospheric Sciences at the Georgia Institute of Technology, said his "false, unscientific notions about climate change represent a danger to the American people."
Several Jews or people of Jewish heritage also rebuked Happer for his insensitive remarks.
Trump has repeatedly dismissed reports about man-made climate change and said he believes it is a "hoax" perpetuated by the Chinese to benefit their economy. The U.S. has been locked in a trade war with China since last year after Trump threatened to impose tariffs on Chinese imports.
Climate scientists have warned that the Earth as we know it could be completely changed as soon as 12 years from now if active measures aren't taken to combat global warming.
Read more about:
Leave a comment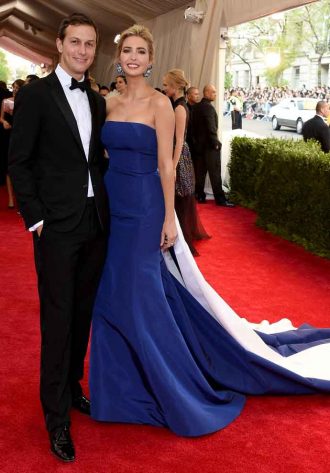 Click here for the 10 Most Powerful Political Couples Slideshow
Listen to the uInterview Podcast!
Get the most-revealing celebrity conversations with the uInterview podcast!